Schedule your service appointment live!
Welcome to Our Service Department
At Infiniti Of Baton Rouge, our highly qualified technicians are here to provide exceptional service in a timely manner to all of South Louisiana's Infiniti owners, as well as other make and models. From oil changes to transmission replacements, we are dedicated to maintaining top tier customer service, for both new and pre-owned car buyers! Our technicians are factory trained and professionals at car care service. We also designed our service center with your busy schedule in mind! You can easily schedule your next maintenance
online
or contact our dealership to discuss any problems you may be having with your car. We will be happy to assist you. You can speak with one of our expert technicians at
(866) 982-3312
or come by our dealership at
13540 Airline Hwy, Baton Rouge, LA 70817
. Need directions? No problem!
Find us here.
 Allow our staff to demonstrate our commitment to excellence and you will see why so many choose to bring their car or SUV to Infiniti Of Baton Rouge.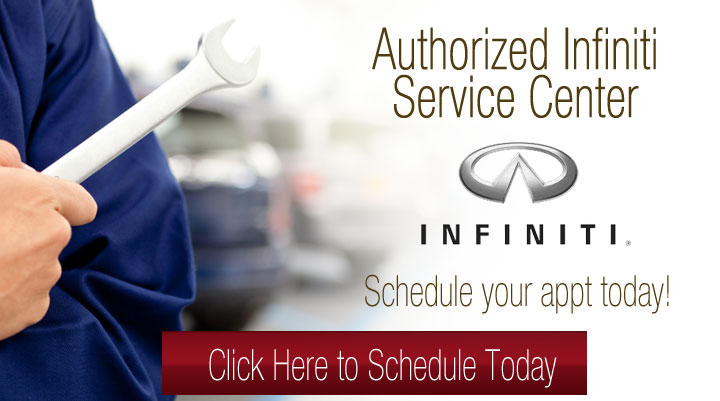 Infiniti Maintenance Schedules
Infiniti of Baton Rouge uses the manufacturer's maintenance recommendations as a guideline, and then we make adjustments based on local and environmental factors.  These factors range from extreme winter cold and summer heat to local road conditions.  We recommend the following maintenance schedule
     3,750 - MILE SERVICE        

Check all fluid levels

Replace 

engine 

oil

Replace 

engine oil filter

Replace oil drain plug gasket

Inspect battery

Inspect drive belts

Adjust tire pressure
Inspect tires 
Inspect brakes
Wash and vacuum vehicle













     
      7,500 - MILE SERVICE 
 


Check all fluid levels

Replace 

engine 

oil

Replace 

engine oil filter

Replace oil drain plug gasket

Inspect battery

Inspect drive belts

Rotate tires (except G35 coupe models)

 Adjust tire pressure 

Inspect tires

Inspect brakes

Inspect vehicle for fluid leaks

Perform body lubrication

Wash and vacuum vehicle




 
     
     15,000 - MILE SERVICE



Check all fluid levels

Replace engine oil
Replace engine oil filter
Replace oil drain plug gasket
Replace A/C in-cabin micro filter
Replace windshield wiper blades
Inspect battery
Inspect drive belts
Rotate tires (except G35 coupe models)

 Adjust tire pressure 

Inspect tires

Inspect brakes

Inspect vehicle for fluid leaks

Perform body lubrication

Wash and vacuum vehicle

























 



     

60,000 - MILE SERVICE




Check all fluid levels

Replace engine oil
Replace engine oil filter
Replace air filter
Replace oil drain plug gasket
Replace A/C in-cabin micro filter
Perform cooling system service
Perform fuil injection service
Perform transmission system service
Replace rear differential fluid
Replace windshield wiper blades
Inspect and test battery
Clean and adjust brake caliper slide pins, brake backing plates and friction surfaces
Inspect drive belts
Rotate tires (except G35 coupe models)

 Adjust tire pressure

Adjust parking brake

 

Inspect tires

Inspect brakes

Inspect vehicle for fluid leaks

Wash and vacuum vehicle




 







     


     

     30,000 MILE SERVICE



Check all fluid levels

Replace engine oil
Replace engine oil filter
Replace oil drain plug gasket
Replace A/C in-cabin micro filter
Perform transmission system service
Replace rear differential fluid
Replace windshield wiper blades
Inspect and test battery
Clean and adjust brake caliper slide pins, brake backing plates and friction surfaces
Inspect drive belts
Rotate tires (except G35 coupe models)

 Adjust tire pressure 

Inspect tires

Inspect brakes

Inspect vehicle for fluid leaks

Perform body lubrication

Computer-scan all systems

Wash and vacuum vehicle