ACQUIRE A NEW INFINITI IN BATON ROUGE TODAY AT INFINITI OF BATON ROUGE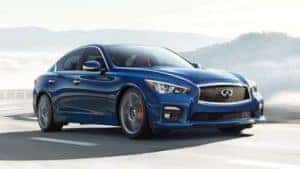 No new car is selected by accident. Drivers strive to find a set of ideals from something tough, something big, something efficient and the list goes on. However, many drivers opt for a vehicle that is luxurious; something they can be proud of forever. While many luxury cars exist, none offer a better option to a consumer than a new INFINITI. Buyers looking for a new INFINITI in Baton Rouge want one for the promise of excellence, style, comfort, and reliability that comes with all INFINITI vehicles. To become the owner of a new INFINITI in Baton Rouge, head over to INFINITI of Baton Rouge to meet with the team that has the skills and knowledge to help you find the INFINITI of your dreams.
When making a big financial investment such as purchasing a new luxury vehicle, customers may be assured that the finance team at INFINITI of Baton Rouge can pair each individual with the best finance rates and offers for them specifically. Those interested in acquiring a loan from INFINITI of Baton Rouge may go online to fill out an easy form to begin their process of getting a loan and understand what they are eligible for. Furthermore, INFINITI of Baton Rouge offers buyers a vehicle service contract so they can be assured that their New INFINITI in Baton Rouge will be able to live a long and healthy life aided by the help of the team. Of the many things that can happen to a car, some of the most common problems are tire and wheel malfunctions, broken windshields, and lost keys. Luckily for those that choose INFINITI, these issues can by utilizing the various individual protection plans available for these sorts of situations. By choosing the GAP Insurance, buyers can be protected from the loss of value in their vehicle while they are still paying it off by having Allstate pay that difference as well as the collision deductible of up to $1,000.
SERVICE CENTER OPTIONS
A huge aspect in keeping a luxury car in tip top shape is to have routine service and maintenance done on the vehicle. The highly trained technicians at INFINITI of Baton Rouge can handle any fix on any INFINITI model on the road today. Scheduling any sort of service or maintenance many easily be scheduled online at the convenience of the customer. The technicians perform the routine service work based off the recommendations of the manufacturer for certain miles reached. However, these recommendations are used as a guideline because the technicians take special care to accommodate for tough conditions the car may have faced such as the sweltering heat, frigid cold, icy roads, and windy days.
BEST OFFERS ON A NEW INFINITI IN Baton Rouge
Drivers love INFINITI because of the quality each and every vehicle offers and they choose to buy them from INFINITI of Baton Rouge because of the warm and welcoming experience that the team strives to offer anyone that walks in the door. In addition to the best supply of new INFINITI models in Baton Rouge, the team also has a vast supply of pre-owned vehicles that offer a fantastic alternative for anyone that is trying to save money or is not yet ready for a new vehicle. The supply of pre-owned vehicles also has a superb selection of specials that is constantly changing so that those looking for the perfect financing are never disappointed. Drivers that wish to select their new INFINITI from INFINITI of Baton Rouge may head to the dealership located at 13540 Airline Hwy, Baton Rouge, LA. The sales team may be reached by phone at (225) 435-8030. They are available to help you find a new INFINITI in Baton Rouge Monday through Friday from 9AM to 7PM and on Saturdays until 6PM. Discover the world in a new light and drive your new INFINITI in Baton Rouge today from INFINITI of Baton Rouge.