ASTOUNDING CERTIFIED PRE-OWNED CARS IN BATON ROUGE AWAIT AT INFINITI OF BATON ROUGE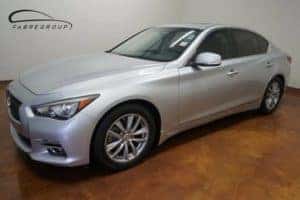 When you are purchasing a new car, finding a balance between affordability and quality can be difficult. When you discover the certified pre-owned inventory available at INFINITI of Baton Rouge, you'll know the perfect balance has been found. Our inventory of certified used cars includes a variety of some of INFINITI's most coveted models, so if you are looking for a certified pre-owned car in Baton Rouge, visit INFINITI of Baton Rouge and see what we have to offer!
CERTIFIED PRE-OWNED INFINITIS DELIVER EXCELLENT QUALITY
If you are shopping on a budget, certified pre-owned inventory could be the perfect place to look for a quality car. At INFINITI of Baton Rouge, our certified pre-owned cars undergo intensive testing to ascertain if they are qualified to be considered a part of certified used vehicles. Through this process, customers can have assurance that the car they choose from our certified inventory will provide long-lasting performance. In addition to this exclusive set of cars, INFINITI of Baton Rouge has a vast inventory of used cars, trucks, and SUVs that offer customers a range of options. What's more, we often have specials available on used vehicles to give customers even more affordable options. Simply put, we do everything in our power to put customers in a car, truck, or SUV that they will enjoy driving for many years.
INFINITI of Baton Rouge OFFERS A FANTASTIC DEALERSHIP EXPERIENCE
INFINITI of Baton Rouge is fully committed to giving customers service that is unrivaled, and this dedication to customer care extends across every one of our departments. Firstly, when you arrive, our sales staff will happily answer any questions you have regarding the many new INFINITI cars and SUVs we have in stock. If we don't have the car that fits your desired specifications, we can simply order it and alert you as soon as it arrives. The financing aspect of getting a new car is one that comes with a significant amount of stress. With the INFINITI of Baton Rouge finance team, however, the worries you had will dissolve instantly. We work with customers to craft a loan agreement that is suited to their personal financial position, and we break down the terms so they are easy to understand. Finally, if you find that your car is not operating at peak condition, our service technicians can accurately diagnose and resolve your problem. We utilize the latest equipment and industry expertise to ensure your problems are dealt with effectively and efficiently. INFINITI of Baton Rouge offers a completely enjoyable dealership experience, so don't wait any longer and come see our large inventory of new and pre-owned INFINITI cars and SUVs!
CONSIDER A CERTIFIED PRE-OWNED IN Baton Rouge
INFINITI of Baton Rouge has a considerable collection of fantastic certified pre-owned cars in Baton Rouge. If you want to realize optimal value on your next car purchase, our inventory is the place to look. When you combine our commitment to customer satisfaction with our quality INFINITI vehicles, you get a dealership experience that is unparalleled. We look forward to your visit and connecting you with an INFINITI you will love!