CRUISE BATON ROUGE IN THE ALL-NEW 2018 INFINITI QX80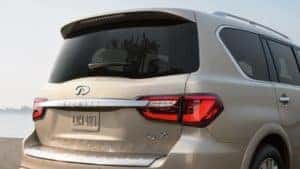 Welcome to INFINITI of Baton Rouge! INFINITI of Baton Rouge is proud to provide new 2018 INFINITI models to our customers in Baton Rouge, Prairieville, Gonzales, Denham Springs, Port Allen, and surrounding areas. Our 2018 INFINITI models include Q50, Q60, Q70, Q70L, QX30, QX60, and QX80. Regardless of your wants and needs in a luxury vehicle, our line-up at INFINITI of Baton Rouge is sure to have just what you're looking for. Our dealership is home to some of the most friendly, knowledgeable, and hard working sales, service, and finance professionals in the Baton Rouge area. If you're looking to purchase a new or used vehicle, have your car serviced, or get some advice on finance options – look no further. INFINITI of Baton Rouge is ready to help, no matter the length of your needs. One of the most popular INFINITI models is the 2018 QX80. The QX80 offers comfort, space, luxury, and a load of incredible features any INFINITI driver would be sure to love. On your visit, be sure to check out the 2018 QX80.
Top-of-the-Line Interior and Exterior Features
That's right, the all-new 2018 INFINITI QX80 is here at INFINITI of Baton Rouge and ready for you to hop inside. The exterior and interior of the 2018 QX80 offer more features than ever before and we can't wait for you to check them out! The exterior of this INFINITI SUV received an all-new stylish exterior with a sportier look. The interior of the QX80 offers a space of comfort and convenience. The QX80 seats up to eight with heated front row seats offer power adjustments and cooling. Passengers in the second row are able to enjoy an abundance of legroom and optional heated seating. Comfort is an understatement when speaking of the 2018 QX80. With technology becoming part of everything we do, it's only right that the 2018 QX80 offers the most advanced technology features. To begin, the QX80 features INFINITI InTouch. InTouch offers a multitude of applications and remote services to keep you in touch while on the road. The InTouch feature offers personal security which includes Automatic Collision Notification, Emergency Call, Stolen Vehicle Locator, Roadside Assistance, Alarm Notification, and Scheduled Maintenance Notification. The InTouch feature also provides a Convenience and Concierge feature that includes INFINITI Personal Assistance, Destination Send to Car, My Schedule, Connected Search, and Destination Assistance. Additionally, the QX80 features Bose Cabin Surround which includes the ability to listen to your favorite tunes through 15 speakers.
Advanced INFINITI Safety Features
At INFINITI of Baton Rouge, safety is and always will be our number one priority. When designing the new INFINITI models, INFINITI engineers keep driver and passengers in mind. The 2018 QX80 offers more safety features than ever before. Featured is the available all-new Smart Rear View Mirror, it transforms from a mirror into an LCD screen that displays the enhanced view from a wide-angle camera giving you a full view of what's behind you. The QX80 also offers the available Intelligent Cruise Control that can add speed and distance in intervals. This feature gives the system the ability to slow your vehicle as traffic slows and re-accelerate when the flow picks back up. Another incredible feature offered in the 2018 QX80 is the world's first Around View Monitor. This feature makes parking a whole lot easier for the driver. Four cameras are positioned around the SUV and alert the driver to moving objects detected around the vehicle.
Be sure to Stop by and Check Out the All-New 2018 QX80 in Baton Rouge
If you're ever in the Baton Rouge area, be sure to visit INFINITI of Baton Rouge. In addition to our inventory of new INFINITI vehicles, we also offer inventories of pre-owned and certified pre-owned vehicles. These vehicles are made up of popular models and makes. If you're just looking to see what we have to offer we'd love to have you in for a visit. As always, our dealership is home to some of the friendliest sales, service, and finance professionals in the area. Please don't hesitate to give us a call or stop by if you have any questions or concerns. We'd love to meet with you. On your visit, be sure to check out the 2018 INFINITI QX80 and all it has to offer.