DOMINATE THE ROADS IN THE NEW INFINITI QX60 NEAR NEW ORLEANS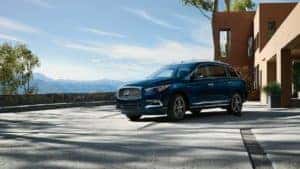 The INFINITI QX60 near New Orleans provides drivers with a unique and unparalleled driving experience. With its accommodating style, sleek look, and top safety ratings, the QX60 is the future of luxury vehicles. See it today at INFINITI of Baton Rouge!
When loading heavy camping gear or multiple grocery bags into the back, there is no need to search around aimlessly for your keys or place your packages down to open the latch. With the hands-free entry, a swing of your foot under the rear bumper is all you'll need to load up. Less hassle is always better. The QX60 can fit seven comfortably and has plenty of large trunk space. If you're bringing the kids along, even better. With three rows of seats, optional dual 8 inch screens, children in the back can watch their own shows or movies as well as listen to the music from the front with the Bose Cabin Surround. There are as well compartments on either side of the car for headphones, drinks, or books you may want to store for your ride. Lastly, if you are just packing up the car for a solo road trip, we have got you covered! Both the second and third rows fold down for a virtually flat surface, providing space for whatever your heart desires.
WHY WE CALL IT LUXURY
A Graphite Weave trim flows with the long dash as well as optional maple accents that finish off a clean interior. The knobs and gauges glow violent during your evening drive. The maple continues down to the center console and captures a Japanese art of layering wood with multiple layers of lacquer that can only be described as striking. The leather interior of the INFINITI QX60 is durable as well as soft to the touch. It will maintain its shape and feel for years to come. For all three rows of the vehicle, there are sunroofs to accommodate all seven viewers on the way to their final destination. All controls throughout the vehicle are close in reach and available at the push of a button to make the drive more comfortable and personalized to the driver.
TECHNOLOGICALLY SAVVY
As well as the comfortable seating and individual controls, the QX60 has connectivity to make driving a breeze while maintaining contact with the outside world. Digital applications are available to be accessed at your convenience. Some of these features include My Schedule which is a Google Calendar application for planning your day, a scheduled maintenance notification, destination assistance, destination send-to-vehicle, connected search, maintenance alerts, as well as a vehicle health report. SiriusXM radio is also a feature on your screen that will provide the latest in music, news, weather, fuel prices, sports scores, and movie show times. With all these applications in your vehicle, there is no need for an assistant!
WORLD RENOWNED SAFETY
INFINITI is the first car to introduce the Around View Monitor that allows for easier parking. There are four camera places around the vehicle that will allow the driver to have a 360 view of the car's surroundings. Also, the INFINITI is enhanced with the Moving Object Detection system that will alert the driver to moving objects including pedestrians and other cars with a display image and prevent collision while parking. As well as the Around View Monitor, the vehicle comes equipped with a Backup Collision system that will also send off alerts when you are approaching another object. It will even engage brakes automatically if you do not brake soon enough. The QX60 comes with Forward Emergency Braking that can measure the distance between you and the vehicle in front of you as well as the speed of both. Brakes will be engaged as you approach the other vehicle. Blind Spot Warning and Blind Spot Intervention systems will help you realize if another vehicle is in your blind spot and prevent accidents when switching lanes.
Choosing the 2017 INFINITI QX60 near New Orleans as your next vehicle is a smart and safe choice that will have your neighbors asking for a test drive! Come test drive it at INFINITI of Baton Rouge today!