DRIVE IN STYLE IN THE 2017 INFINITI Q70 IN BATON ROUGE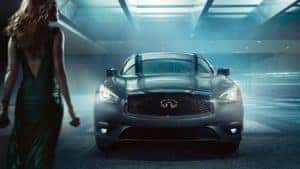 It's time you treated yourself. Instead of buying another new car that will only blend in to the sea of look-a-likes, INFINITI of Baton Rouge invites you to invest some time into researching the 2017 INFINITI Q70. This beautiful blend of performance, comfort, and technology is certain to impress.
You have two types of engines when customizing your 2017 INFINITI Q70 in Baton Rouge. You can choose the standard 3.7 liter V6 engine or opt for a bit more power with the 5.6 liter V8. INFINITI's exclusive VVEL Technology which constantly tunes valve lift and timing of the vehicle, your engine will respond faster and be more fuel efficient. The All-Wheel Drive system has a mind of it's own. During rainy conditions the system will shift 50% of the engine power to the front wheels to provide better traction and stability. If you're experiencing nicer weather, 100% of engine power is sent to the rear wheels to give you faster and quicker control. The 2017 INFINITI Q70 is also available as a hybrid, so you can enjoy all of the standard features while enjoying improved fuel economy and less trips to the pump.
SIT IN THE LAP OF LUXURY
One of the main reasons to purchase a luxury sedan is anticipating the comfort and style of the interior. INFINITI has spared no expense in placement and materials. Each instrument has been intelligently placed for ease of reach. Your steering wheel, shift knob, and center console have all been designed to be recognized by touch alone so you can keep your eyes on the road at all times. The console, dash, and door linings have been built with beautiful Japanese Ash wood. Every piece is sanded and polished by hand and is not installed until absolutely perfect. Research was conducted by INFINITI engineers to find out the perfect texture desired by INFINITI drivers. The fabric used was created exclusively by INFINITI, and at every touch you will recognize the high quality.
TECHNOLOGY OF THE FUTURE
The most important aspect of today's modern world is being connected. Whether it's to your family or business, you're expected to always be a phone call or text away no matter what you may be doing. INFINITI Connection is installed in the 2017 INFINITI Q70 to help you do just that. INFINITI Connection keeps an eye on your vehicle's surroundings at all times. The Around View Monitor makes parking a breeze by giving you a bird's eye view on your immediate surroundings. A Moving Object Detection system will also alert you if anything is approaching your Q70. The Q70 houses an impressive 16 Bose Studio Surround speaker system and is compatible with all smart phone technology so your favorite music will sound better than ever. To the minute weather and alerts and a high tech navigation system will always have you headed in the right direction.
EMBRACE LUXURY TODAY WITH THE 2017 INFINITI Q70 IN Baton Rouge
There's no question that the 2017 INFINITI Q70 is redefining the standard for a luxury sedan. Let INFINITI of Baton Rouge get you behind the wheel of your own Q70 today.