QUALITY OEM PARTS AND PREMIUM AUTOMOTIVE SERVICE AT INFINITI OF BATON ROUGE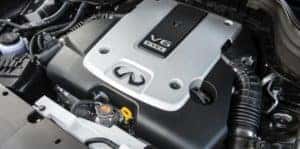 INFINITI is an automotive brand known across the globe for its cutting-edge technology and impressive engineering. Offering luxury, performance, quality and reliability, INFINITI is an affordable luxury brand focused on sport and value. Both the Parts Department and Service Department at INFINITI of Baton Rouge provide our South Louisiana customers with exceptional levels of customer service, offering insight into the inner-workings of their INFINITI vehicles like never before. For superior INFINITI parts and service in Baton Rouge, INFINITI of Baton Rouge is your one-stop shop.
Genuine OEM INFINITI Parts in Baton Rouge. The friendly parts professionals at INFINITI of Baton Rouge are here to offer their assistance in any possible manner, whether you're a do-it-yourself INFINITI owner or if you've just got a couple of questions you'd like to ask. The parts experts that make up the INFINITI of Baton Rouge parts department bring years of experience to the table, and they're more than willing to help answer any and all questions that you may have. Genuine OEM INFINITI parts means that we don't deal in aftermarket parts or accessories, ensuring that any parts you purchase from us were made specifically for your model of INFINITI vehicle. The Parts Department at INFINITI of Baton Rouge maintains a comprehensive inventory of high quality genuine OEM parts, so chances are good that we'll have the part you're seeking in stock. If for whatever reason we don't, we'll go ahead and order the part that you need and get it for you as quickly as possible. We pride ourselves on going the extra mile when it comes to our Baton Rouge, Louisiana customers, and the INFINITI of Baton Rouge parts department is certainly no exception.
INFINITI SERVICE SPECIALISTS IN SOUTH LOUISIANA
When you're vehicle is in need of repairs or maintenance, bring it to the automotive experts available at the INFINITI of Baton Rouge service department. Our friendly and knowledgeable automotive technicians are factory-trained by INFINITI in order to ensure they can provide the most accurate diagnoses to even the most troubling vehicle issues. Our experienced team of highly qualified service technicians are here to provide exceptional service and support, and they'll do everything in their power to get you back on the Baton Rouge roadways in the most expedited manner imaginable. Whether you're needing regular maintenance such as an oil change and tire rotation, or more serious repair work like a transmission replacement, the INFINITI of Baton Rouge service department is committed to providing top tier customer service to both our new and pre-owned car customers. Contact us today and let our experienced service department staff demonstrate their unparalleled commitment to automotive repair excellence.
At the INFINITI of Baton Rouge service department, we use the manufacturer's maintenance recommendations as a guideline, and then make our own adjustments based on local and environmental Baton Rouge, Louisiana factors. These factors range from extreme winter cold and summer heat forecasts, to the road conditions of our local streets and highways. We pride ourselves on treating our customer's vehicles as if they were our own, and we work hard to provide a safe and hassle-free environment from which our Baton Rouge customers can enjoy as their vehicle gets serviced.
INFINITI PARTS AND SERVICE IN Baton Rouge, LOUISIANA
Looking for high quality OEM parts for your INFINITI vehicle, or needing to have an expert diagnose why your INFINITI vehicle isn't running properly? The experts that make up the INFINITI of Baton Rouge service and parts departments are ready to assist, and get you back on the South Louisiana roads as fast as possible. Looking for accessories to help give your new INFINITI vehicle a unique look that's all its own? Let the INFINITI of Baton Rouge parts professionals help find the exact accessories you're wanting, and get them ordered if we don't already have them stocked in our massive parts inventory. Whatever your needs are, the friendly staff at INFINITI of Baton Rouge stand ready to assist our South Louisiana customers in any way that they can, helping them get back on the road and to their everyday routine as quickly as we can.