RESERVE THE 2019 QX50 AT INFINITI OF BATON ROUGE TO BE AMONG THE FIRST DRIVERS IN THE AREA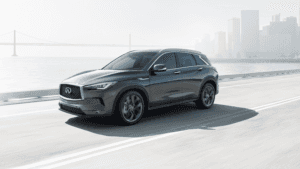 INFINITI is always pushing the boundaries of what their cars are capable of. INFINITI engineers work tirelessly to give drivers and new and improved product every year. The 2019 INFINITI QX50 combines engineering brilliance with intuitive comfort, ensuring that fans of INFINITI will be more than satisfied with their latest installment in the INFINITI lineup. You can reserve the 2019 QX50 at INFINITI of Baton Rouge today to be among the first to appreciate this luxury SUV!
THE STYLE OF THE INFINITI QX50 IS A PROFILE IN EXCELLENCE
There is an elegant simplicity to the INFINITI QX50's exterior design. Ironically, this outer shell houses advanced technology and engineering. Still, its exterior includes muscular lines and a wide stance so it has a commanding presence on the road. Inside the QX50, the theme of elegance continues, with intuitive instrument placement and high quality materials that define what a luxury car is all about. More specifically, you will enjoy wood accents, tailored stitching, and leather surfaces that enhance your comfort and overall driving experience. Furthermore, the QX50 made room for plenty of storage by integrating a tall hatch opening, large cargo space, and an hidden under-floor bin that lets you load up for road trips. Further still, you can access the power liftgate by raising your foot behind the rear bumper with the available motion awareness sensors so that you can leave your keys in your pocket. Simply put, the INFINITI QX50 combines aesthetic beauty with luxurious convenience to give you the best driving experience possible.
THE PERFORMANCE CAPABILITIES OF THE INFINITI QX50 SEPARATES IT FROM THE COMPETITION
INFINITI is moving the automotive industry forward with constantly improving technology and performance. The 2019 QX50 is an early benefactor of their progress, as it has the world's first production ready VC-Turbo Engine. This piece of machinery is the product of 25 years of INFINITI innovation and development. Rapid response, power, and efficiency reach new heights with this engine, making the 2019 QX50 that much more enticing. Additionally, the 2019 QX50's Active Torque Rod reduces engine noise and vibration as you accelerate. It is installed on the upper engine mount and dampens engine harshness and noise with counter-balancing vibrations. Lastly, the exclusive Direct Adaptive Steering™ technology keeps your steering wheel still by using an electronic connection between the wheels and the steering wheel. This system is capable of instantly changing and digitally enhancing steering input from the driver up to 1,000 times per second. The INFINITI QX50 offers a unique driving experience with its advanced precision and control.
INNOVATION BRINGS YOU THE FUTURE IN THE QX50
The QX50 has a bevy of technologies that work to make your drive easier. For example, ProPILOT Assist combines Steering Assist with Advanced Intelligent Cruise Control and uses radar and optical systems to keep track of the distance with the vehicle ahead of you and lane markers. If you start to drift from the middle of your lane, it will take corrective action, and it will keep a set distance from the car in front of you. This technology will work around turns too! Other technologies available include Forward Emergency Braking with Pedestrian Detection, Lane Departure Warning and Prevention, and Distance Control Assist. Overall, cars continue to get smarter across the industry, but few can match the intelligence of INFINITI luxury cars and SUVs.
RESERVE THE 2019 QX50 AT INFINITI of Baton Rouge NOW
INFINITI of Baton Rouge is offering reserve orders on the INFINITI QX50 because we know people will want to get their hands on INFINITIs latest addition to their lineup as quickly as possible. INFINITI promises style, performance, and technology in this compact SUV, and it would be a great introduction to INFINITI's greatness if you have yet to drive one. If you have any questions regarding the new QX50, or any other new or pre-owned cars and SUVs in our inventory, don't hesitate to contact us or come in for a visit today!