Safety Features of the New 2019 INFINITI QX80
INFINITI truly sets the gold standard for technology and safety features in its new limited edition 2019 INFINITI QX80. Not only does the car look like the future with its slick trim and first class interior, it has the technology of the future as well. Its hard to believe a car that looks so luxurious and feels so comfortable could be so practical. You will not only feel comfortable inside the car, but you will also feel safe knowing the state of your car at all times. Visit INFINITI of Baton Rouge to check out this excellent feat of innovation.

INFINITI QX80 Intouch Features
INFINITI really works hard to ensure that you create a unique bond with the all new 2019 INFINITI QX80. They provide available unique INFINITI Intouch services. These services include amazing connectivity measures like the Amazon Alexa Skill. Features like this allow you to always be connected to the QX80 whether it be through your smartphone or your smartwatch. You can receive alerts on its location, speed, and much more! Features even include remote engine start and stop, remote door lock and unlock, remote horns and lights, drive zone alts, valet alerts, and max speed alerts. While these features all put you in control when you are away from your INFINITI QX80, there are many other Intouch features to keep you in control in the car as well. INFINITI wants to make sure you feel as safe as possible at all times. That's why they provide all these innovative features to boost your confidence on the road.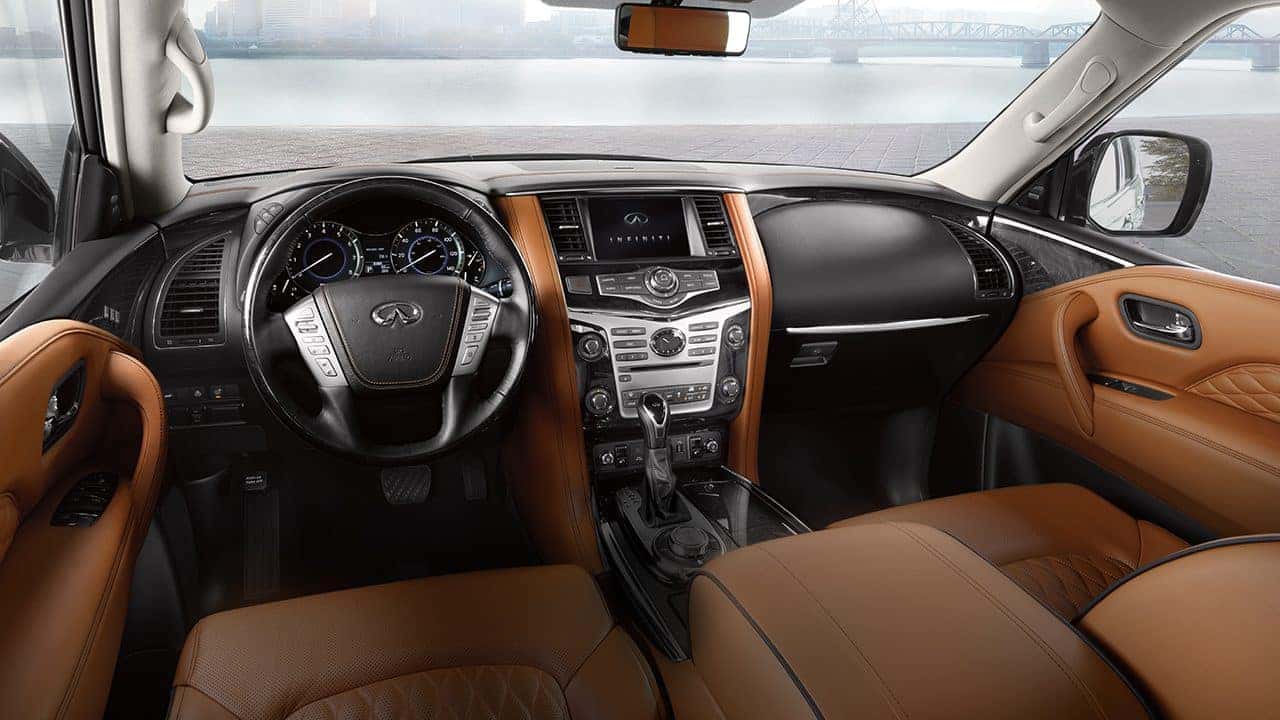 For example, you can get automatic collision notifications, emergency calls, stolen vehicle locators, roadside assistance, alarm notifications, vehicle health reports, and maintenance alerts. This way, you always know what is going on inside and around you vehicle. Plus, you can feel safe knowing where you are going because INFINITI Intouch also provides INFINITI personal assistant, GPS, a personalized schedule, a journey planner, and extra destination assistance. With all these features INFINITI QX80 becomes more than just a car, it becomes a reliable foundation for your life.
Find a INFINITI QX80 at INFINITI of Baton Rouge
INFINITI would not want you to damage your car in any way or bring yourself into danger. That is why they have even more safety features beyond the Intouch program! The INFINITI QX80 has a smart rear view mirror, so you can always feel safe backing up. The mirror helps you view past any compromised vision from other passengers, large obstacles, or even just plain darkness. The INFINITI QX80 transforms your rear view mirror to an LCD screen with an enhanced view of everything behind you. Not only does the INFINITI QX80 watch your back, but it also checks your front. With distance control technology, INFINITI proves once again why they are top of the line innovators. With this new and improved cruise control, the QX80 can go watch both speed and distance intervals. If traffic is slowing down, the system will make sure you slow down with it. Similarly, it will re-accelerate once traffic clears. The smooth transitions will also help save you on gas! Plus, the INFINITI QX80 has an around view monitor with moving object detection. This means the INFINITI will even help you park! You don't have to worry about accidentally hitting something because the INFINITI has four cameras placed in key spots around the vehicle. That way, it can build a 360° view of your car. Not to mention, the moving object detection sounds when anything enters the view of your display.
These safety features will also help you feel more comfortable in your car! For example, the hydraulic body motion control system will give you confidence on any turn. It actually monitors force to re-distribute it around your vehicle. This way, you won't feel a strong body lean, and you will be happier with the smoother ride. Similarly, you will feel less vertical motion when driving over potholes or bumps. In fact, less than ideal road conditions will no longer be a problem because the INFINITI QX80 will adjust for more traction. INFINITI offers All-Mode 4WD in which the vehicle will self tune its torque to help maintain traction in any condition. In the end, if you want to feel safe, comfortable, and happy, come down to INFINITI of Baton Rouge to get this limited addition INFINITI QX80!