THE REDESIGNED 2018 QX80 IS NOW IN STOCK AT INFINITI OF BATON ROUGE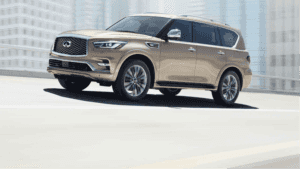 Driving a luxury vehicle isn't about status, showiness, or self-indulgence – driving a luxury vehicle is about understanding the value of owning a car you love, and one that you will look forward to being in day after day. In a transportation system centered largely upon driving for getting around, investing in the cream of the automotive crop seems like a no-brainer. If you are looking for a car that the whole family will cherish, the redesigned 2018 QX80 is now in stock at INFINITI of Baton Rouge.
THE REDESIGNED 2018 QX80 RECEIVED IMPRESSIVE UPGRADES
The biggest car in the INFINITI lineup was redesigned to make it as comfy and stylish as ever. The 2018 QX80 is the perfect family SUV, combining a spacious interior with premium materials for an unparalleled level of comfort. Leather appointed seats, noise-insulating glass, heated front row seats and available cooling are just a few features that assist in the QX80's interior excellence. In addition, the memory system can adjust the driver's seat, steering wheel, and the side-view mirrors to your personal saved settings. Available second row controls let you fold down and top the 2nd-row seats forward for your guests easily, which allows them to climb unhampered to the 3rd-row. Finally, if you need extra storage space, the 2nd- and 3rd-row can be folded down to grant you 95.1 cu-ft of space on a practically flat floor. INFINITI checked all boxes when it comes to the utility, comfort, and style of the QX80's cabin.
THE PERFORMANCE CAPABILITIES OF THE 2018 QX80 MAKE DRIVING A BLAST
You will never get tired of the smoothness, power, and fuel economy of the 2018 QX80, as this SUV is a testament to INFINITI's engineering brilliance. For example, the available Hydraulic Body Motion Control system observes your QX80's force and distributes variable pressure to the outer or inner suspension. Furthermore, the available Hydraulic Body motion Control system isolates the cabin from rough terrain, so vertical motion is limited when you are passing over a bump or pothole. Further still, the available All-Mode® 4WD adjusts the torque between the front and rear wheels in order to keep your vehicle solidly on the road during slippery conditions. Lastly, the power of the QX80 is truly remarkable, as its 5.6-liter V8 engine generates 400 horsepower, 413 lb-ft of torque, and can tow up to 8500lbs. With all of this expounded upon, its hard to not ask yourself, "What's can't the 2018 INFINITI QX80 do?"
TECHNOLOGICAL AMENITIES KEEP EVERYONE THOROUGHLY ENTERTAINED AND SAFE
The safety of drivers is INFINITI's top priority, which is why you will have access to a multitude of safety technologies in the QX80. The features are too exhaustive to completely list, but a few of them include automatic collision notification, emergency calls, stolen vehicle locator, roadside assistance, and much more. Beyond safety, the INFINITI QX80 offers a variety of amenities to keep you entertained. The 15 speakers with digital 5.1-channel decoding AM/FM radio is one such amenity, as is the available dual 8-inch screens for 2nd-row passengers to enjoy movies, music, or games. INFINITI even installed spaces for your wireless headphones, remote, and whatever personal entertainment you bring along for the trip. The all-new Smart Rear View Mirror, available in the Deluxe Technology Package, is another impressive feature, transforming from a mirror into an LCD screen, displaying an enhanced view from a wide-angle high-resolution camera. This is but a glimpse into the technologically advanced 2018 QX80!
INFINITI of Baton Rouge HAS THE ALL-NEW REDESIGNED 2018 QX80 NOW IN STOCK
At INFINITI of Baton Rouge we believe everyone deserves a chance to enjoy the quality of an INFINITI vehicle, and the redesigned 2018 QX80 allows the entire family to get in on the fun. Our staff would be happy to show you through our extensive inventory and field any question you may have about our cars' specifications. With the redesigned 2018 QX80 now in stock at our dealership, you'll want to head over quickly and see what it has to offer in person. Ready to buy? Fill out our online finance application now!